This is for all you music junkies out there. Everybody who listens to music when they shred has had their share of fights with bulky headphones or earbuds. They fall out of your ears or slide off your beanie, causing you to stop or slow down to fix the problem.
Well, there is a solution! These beanies plug right into your iPod or other music device giving you worry free shredding! Headphone beanies are becoming more and more popular, with most brands carrying at least one style. In most, the ear peices come out so you can wash your beanie or just sport the headgear without the speakers. Some even feature a convenient volume control on the cord so you listen when you want.
Even if you don't snowboard, these beanies are awesome for running, biking, or any activity when you would listen to music and wear a beanie.
Here are a few:
Bula Irvine








Bula Anna
Neff Classic
Skull Candy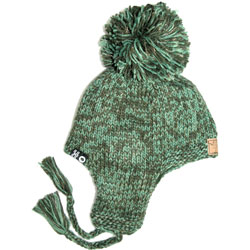 O'Niell H4 Equator
Red Ordinance Audex AudioBeanie
*
*This beanie is even padded to protect your noggin' and keep it warmer!